Ombudsman Representatives Help Residents.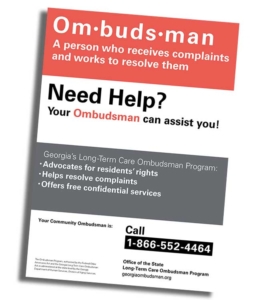 The Office of the State Long-Term Care Ombudsman (Georgia) seeks to improve the quality of life for residents of long-term care facilities (nursing homes, intermediate care facilities for the intellectually disabled, personal care homes, and community living arrangements). The State Office certifies and trains community ombudsmen who work to resolve concerns of long-term care facility residents statewide. We emphasize residents' wishes in assisting to resolve problems.
We provide advocacy and informal resolution of concerns of residents in long-term care facilities. Ombudsmen work on behalf of the resident and his or her wishes and desires. We may intervene in a problematic situation with the direct permission of the resident or representative. We also have resources and materials that may be helpful in addressing concerns. We are knowledgeable about laws and policies governing facilities and agencies that may be helpful in particular situations.
Locate Community Ombudsman by County or Service Area: